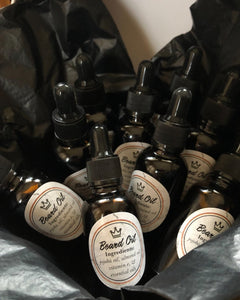 Healthy skin = healthy beard. Our beard oil is made of a premium blend of natural oils. Created with moisture in mind we use a blend of 5 of the finest carrier oils: Sweet almond, jojoba, castor, avocado, and wheat germ oil. Our blend is designed nourish your skin this creates a healthy growth environment. It also helps to soften the hair preventing itchiness and irritation of the skin keeps dandruff at bay. It keeps hair manageable, neat and adds a slight sheen. Our oil has a light woodsy scent we created with a blend of essential oils.
*OHC products are hand made with love. They are made is small batches, and contain nothing but cold pressed oil and essential oils absolutely no junk!
recommended dosage:
chart is upon how long you have been growing your beard
1 Month Growth: 2-3 drops per daily application
1 – 3 Month Growth: 4-6 drops daily application
3 – 12 Month Growth: 6-8 drops daily application
12+ Month Growth: 10+ drop daily application
Customer Reviews
Stellar
The oil makes it easy to comb my beard and keeps my skin from flaking up. It smells amazing too. 5/5 would buy again
Best beard oil.
I've been looking for some kind of beard oil to improve growth fill in patches and provide a shine to my beard. Well mission accomplished with this product.
Best Beard Oil
I can honestly say that I've found the best Beard oil I've ever tried in my life. I had used plenty others in the past but even with the right routine to keep my beard moisturized for the day the beard oil wouldn't seal In the moisturizer. I've been using this brand for 3 months now. I can see the growth in my beard over these past few months. Stop playing and get your hands on this ASAP.