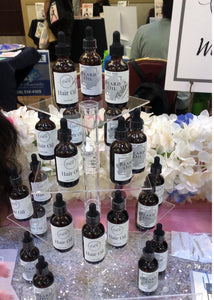 OHC hair oil is made of a premium blend of natural oils. Created with moisture in mind we use a blend of 5 of the finest carrier oils: Sweet almond, jojoba, castor, avocado, and wheat germ oil. Our blend is designed to nourish your scalp creating a healthy growth environment. Healthy scalp is imperative for hair maintenance and growth. Our hair oil is designed to combat dryness and irritation of the scalp. It keeps hair manageable and adds a slight sheen. Our oil has a light woodsy scent we created with a blend of essential oils.
*OHC hair care products are hand made with love. They are made in small batches, and contain nothing but cold pressed oil and essential oils absolutely no junk!
Customer Reviews
Love this oil!
This is the only oil that doesn't leave residue in my hair. It's soothing on the scalp, and provides great moisture and shine to my locs. I love it!
Awesome hair oil
This is the only oil that I use on my scalp. It's very light and I love the way it smells. I wish it came in a larger bottle.